Personalize Your Home With Custom Kitchen Remodeling in St. Charles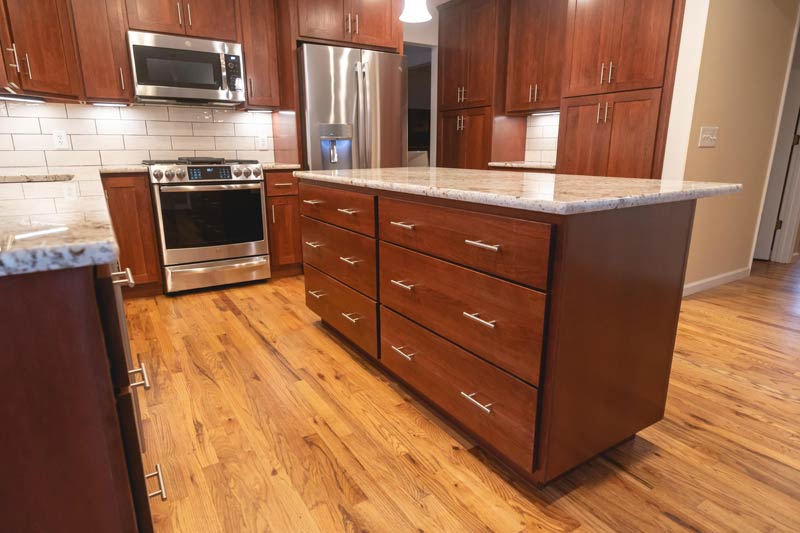 Whatever new vision you have for your culinary space, we can create it with kitchen remodeling for your St. Charles home. With so many advancements in kitchen technology and appliances, it's easy for this room to become outdated quickly.
We're the remodeling experts to turn to help you transform your old kitchen into an entirely new space. Get the look and the upgrades you want to enhance this room completely. We'll show you the exciting options that you have to turn this room around, usually without the need to move plumbing or wiring.
Kitchen remodeling is about designing and creating a space that inspires while also making this the go-to spot for families to connect. Keep it comfortable, convenient, safe, and modern. Your remodeling contractor should offer advice to achieve that end in a personalized way.
Kitchen Cabinets
Your kitchen cabinets are essential for a successful kitchen remodel. They set the base for your design concept & color scheme, and allow for the perfect storage and organizational space.
Your kitchen cabinets are your entire storage system, so we help to make sure it's as functional as it is attractive. Our designers help you select every little detail, including:
Door Profile
Cabinet Door Style
Choose Wood Type
Choose Wood Color
Plan for Organization
Utilize Every Available Inch
It's important to feel good about the final results you get. This is a decision that you should be able to feel good about for years to come.
There are a lot more details that go into picking the perfect cabinets than you realize, right down to the type of hardware you select. Don't settle for anything less than the best quality when it comes to your custom cabinets.
Envision the Kitchen of Your Dreams
You have a great deal to think about when it comes to planning your new kitchen. Different options will be available based on factors like the size of your current kitchen, as well as the size of your available budget.
Our job isn't just to create the perfect culinary space it's about helping you make the right choices:
Getting a budget in place
Making sure you understand the importance of adequate lighting
Picking the ideal flooring
Update appliances all together
Finding the right countertops
Choosing a fitting backsplash
The point is not to feel overwhelmed because when you have an excellent professional to work with, you'll make good decisions throughout the process. Having a reliable and experienced expert on your side is as much as about avoiding mistakes as it is making smart choices.
For results that you're guaranteed to love, call St. Charles Kitchens and Baths for kitchen remodeling in St. Charles.