Top Remodeling Tips for Small Kitchens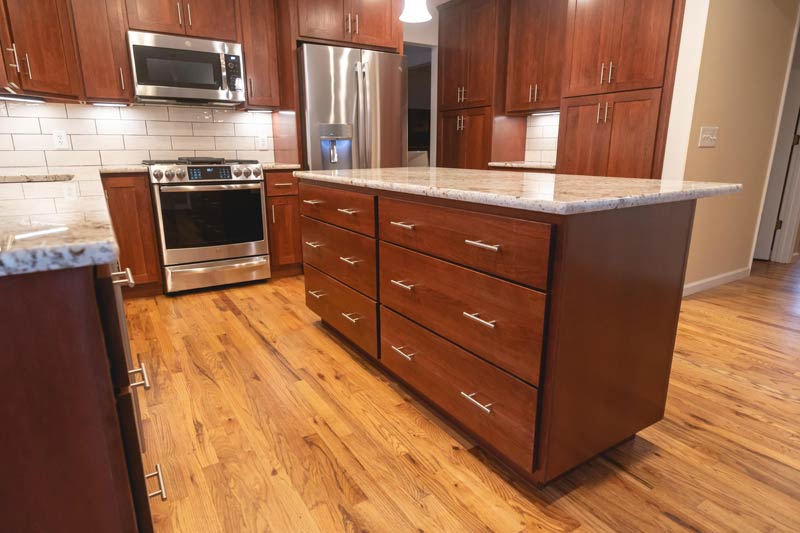 Remodeling a small kitchen is a great way to make it feel not-so-small. However, even for the best design experts, it's still a daunting challenge.
You always have the option to sink a small fortune into the project and change the layout completely. This means moving plumbing and reinventing the existing kitchen, but your kitchen better be that important a space for you and your family.
Otherwise, the other option is to make the best of what you got and use kitchen remodeling tricks to make it feel bigger. The trick is to make sure it ends up working well for exactly for your intended purpose.
Making Your Kitchen Look & Feel Bigger
If enlarging your kitchen and moving major components, like the plumbing, aren't an option for your existing space or budget, don't give up hope. There are still plenty of tricks of the trade that can be used to create the illusion that you've opened up the space.
It's those dark dungeon-like kitchens that end up feeling really cramped, even if they're not. So, make sure to incorporate plenty of light into the design to have the opposite effect. Implement plenty of both natural and supplemental artificial lighting to accomplish this feat.
So making your kitchen smaller won't make it feel bigger. However, it will make it a more focused room. The problem is that too many already small kitchens try to accomplish too many things. Stop trying to make your tiny kitchen a place for cooking, baking, storage, eating, doing school work, and hanging out. Designate it as just the place to do your culinary work and designate other areas for other tasks.
The same way light can be used to make a room feel larger, you can use glass. It helps open things up by removing so many barriers. Use clear glass for cabinet doors, dividers between rooms, even add a window if possible. The result will be a space that looks bigger and more open.
If possible, open the kitchen more by taking down partitions. While it may not give you more usable kitchen space, it prevents it from feeling like a walled-off mini space. Walls that aren't there for support can be taken out or at least made into half walls to reduce the number of restrictive barriers there are.
Choose Industry Experts to Work With
The smartest way to have great success with this, or any renovations, is to hire a company that knows how to get results. At St. Charles Kitchens and Baths, we're known as problem solvers, and that means we'll get you the solution you need.
With over 30 years of experience in the field, we know what it takes to open up your kitchen and get amazing results. Call us today so we can begin working as your St. Charles remodeling team.